How Ebates Works
1
Start at Ebates
Always start your shopping trip at Ebates.
2
Shop at Your Favourite Stores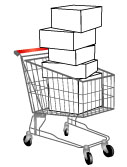 Click through to your favourite online store, and shop as you normally would and earn Cash Back.
3
Get Cash Back
Ebates keeps track of what you buy, and records your Cash Back in your account balance. Every quarter, we send you a BIG FAT CHEQUE in Canadian dollars.
4
Celebrate
Start every online shopping trip at Ebates Canada, and you'll always earn Cash Back!
Pssst...Want to save even more?
Double up on your savings! Grab coupon codes at Ebates.ca before you click through to go shopping.